The Minister for Home Affairs and Minister for Immigration and Border Protection issued the latest Legislative Instrument on 25th June 2018 with a big change: "INCREASE the EOI minimum score from 60 to 65 points".

Starting from 1st July 2018, the visas will be affected by this changeg include: Skill Independent Visa 189, Skill Nominated Visa 190 and Skill Regional (Provision) Visa 489

At the same time, if the EOI has been submitted before 1st July 2018, but has not been invited, the minimum of 65 points for submitting EOI is required. The EOIs of 189 and 190 visa that scored 60 points will automatically expire. Also, after 1st July 2018, visa 190's applicants need to reach 60 points, and Visa 489's applicants must reach 55 minutes to submit EOIs.
You can use our skilled migration points calculator to calculate your points.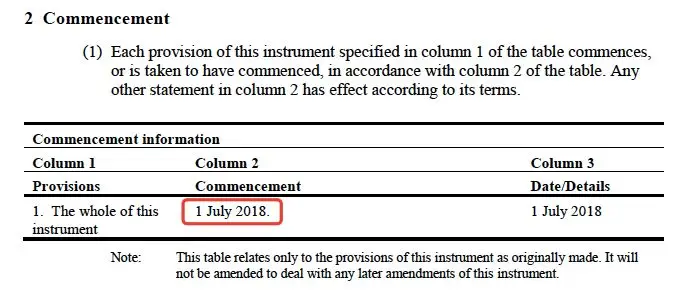 A -There is a difference between the EOI (EXPRESSION OF INTEREST) and the formal visa application.
Many students think that submitting an EOI is a visa, but it is not. At first, You must meet the requirements of the Immigration Department. Getting minimum score (currently 60 points, 65 points after July 1) to be eligible to submit of EOI, and then the Immigration Department will issue an invitation before you can submit the formal visa application.
B – 65 points are just the minimum to be eligible to submit the EOI, not the inviting score:
Therefore, make sure you do not think that you will be able to submit your visa application as long as you have 65 points after 1st July 2018. A score of 65 is just the minimum for submitting EOI . Take an example of Accounting, the inviting score is now 80 points which means you can only have the invitation when you reach 80 points in order to apply for visa 189.
C – Although "60 points" applicants will no longer be invited, this is not a matter to 189 visa applicants
For Visa 189's applicants, the fact that the minimum score changes from 60 points to 65 points does not have a big impact. Take a look back at the 189 invitations in the first half of 2017, 60 points could be invited. But since June 2017, the game changed, Accounting needs 80 points or more,  other occupations  (such as teachers, nurses, nursing workers, etc.) also need 70 points, so even if you submit a 60-points application, the chances of getting an invitation are still obviously zero.
D – 190's and 489's applicants need to pay attention to your current points
It is important for students who plan the pathway of applying visa 190 and 489, now you all need to reach 65 including 5 points from state nomination. You must take action to earn more points as soon as possible, especially 190's applicants that currently have only 55 points or 489's application that currently have only 50 points!
Comments for 190's application at NSW, Tasmania, and ACT:
New South Wales
This is the state with the lowest requirements – it does not need to meet the learning and residential requirements. However, according to the NSW-application submitted by S&W Consulting Group, NSW must have a preference for applicants with high scores, work experience and good English. So we have always reminded our clients that it is not that you will be invited just by reaching only 55 points. You have to think that so many applicants who are in the same situation are competing with you, the state government definitely prefer a better candidate for admission.
Tasmania
The insight we received was that Tasmania State Nomination policy would stay stable. You need to meet the requirements of Tasmanian government for state nomination (such as studying there for 2 years; having a Job offer, etc.) and reached 55 points (note that after 1st July 2018 it was 60 points), you will get a state nomination invitation. However, applicants are increasing fastly, and one day the state will also need to change their policy according to the scenario. There is no guarantee whether the state government will consider giving priority to seniors. So again, the higher score, the better.
ACT
At the beginning of the month, we received a notice from the state government that the 190 applicants for this state can not just simply reach the minimum score (60/65 points) to be invited. The ACT is proposing to introduce a selection-based invitation process where candidates will express an interest in applying for ACT 190 nomination by completing a score-based Canberra Matrix.  The Matrix score will then be ranked each month. Candidates will be selected and invited to apply for ACT 190 nomination. In conclusion, ACT State Government has also begun to invite high qualified applicants with higher scores
Now, we need to consider the solution:
What are the alternative pathways to apply for Permanent Residence
What are options to increase your current points
S&W Consulting Group
Head Quarter: Level 12, 356 Collins Street, CBD Melbourne VIC 3000
Scan QR Code via WeChat
to follow Official Account
Read More